A WIZARD WAS FOUND INSIDE FENCE IN ONDO STATE AFTER HEARING THE SOUND OF A BIRD.
A WIZARD WAS FOUND INSIDE FENCE IN ONDO STATE AFTER HEARING THE SOUND OF A BIRD.
A young boy was dug out from the fence by residnece in Ondo south.
Recall: the incidence that happen last year on how a young boy got into the fence got evey body talking, it was learnt that the boy flew like a bird eventually fell inside the fence and turned into a human thus was reported by Paradise news.
An eye witness named Olowolayemo Damilola Bolaji reported that the boy was later discovered by the woman selling food under a tree in the area very early in the morning
Now this is the full story.
The woman that normally sell food under the tree said that the boy was flying like a bird at midnight unfortunately for him he was hit by a branch of tree. That was what led to his fall in the block.the woman that ws selljng food under the tree said she heard the voive of a bird inside the block since it was a bird she did not pay mucj attention to it so on the third day of this event the bird kept on making noise do people from the residnece started layjng complains on the strange noise lf the bird Bolaji said.
Bolaji also said one of the tenant (An elderly man) called Baba chelsea voluteered himself to go and check on the spot where the bird is sohnding from he was the one who broke the fence since others were afraid of doing so.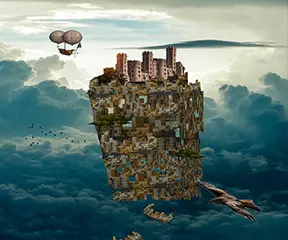 After he took an iron to break the fence to his greatest surprise he saw a boy inside, he was looking thin due to the fact that he has been there since three days or there about without food nor water everyone was surprise so they asked him his name he was dumbfounded he couldn't say anything
Our Reporter stated that the young boy was later taken to the village for further investigation

This is another surprising news and I know you will have something to say.kindly drop your comment below in the comment sections. Thanks 🙏 for reading.