TOP EIGHT NIGERIAN DISHES AND THEIR RECIPE.
TOP EIGHT NIGERIAN DISHES AND THEIR RECIPE.

Nigerian dishes would include all kinds of foods that are served in Nigeria, these are very popular ones. Most of them are easy to prepare.
Below are the dishes and there recipes.
1. Niger jellof rice.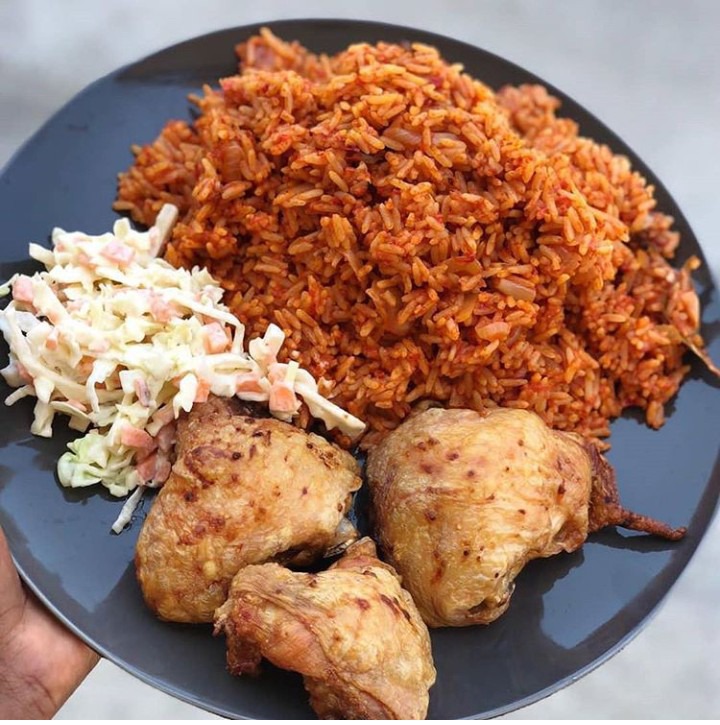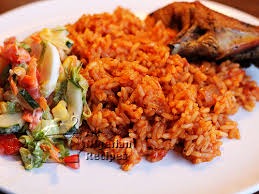 YOU WILL NEED:
4 Tablespoons of Canola oil
1 Tbsp butter
4 Fresh tomatoes or one 14.5oz can of diced (no salt) Hunts tomato (I seriously suggest using this brand If you decide to buy canned)
1 6oz can Tomato paste
4 Red onions
2 Red bell peppers (tatashe)
crayfish (optional, but I love to use it)
4 Habanero pepper (scotch bonnet) (put as much or as little as you want, depending on how spicy you want your rice)
4 1/2 cups of long-grain parboiled rice
2 cups of chicken stock
Spices:
Maggi or Knorr cubes
salt
cayenne pepper and black pepper
white pepper
Bay leaves
curry powder
garlic or onion powder
ginger
thyme leaves
Note: Quantity of spices depends on your preference. Be sure to use your judgment and avoid adding too many spices.
2. Niger fried rice.
Nigerian Fried Rice is a very simple yet delicious recipe. This version relies on a ton of fresh vegetables, Beef Liver, and a little bit of Oil for crisping it up.
The added beef liver gives the fried Rice a very nice rich but subtle taste, and this is why it is one of the most popular choices in Nigeria. Though you can also use Shrimp or any protein you'd like. If you would love to make vegan fried rice, you can omit the Beef liver or Shrimps entirely!
This fried rice is entirely different from the popular Asian Chicken Fried Rice because the depth of the taste in the later comes from the Soy sauce while the depth of taste of the later comes from the Curry powder, Thyme, Seasoning cubes and of course the abundance of vegetables like Carrots, Green beans, Peas, sweet corn and Onions.
Just like the Basmati Jollof Rice we savor these meals so much, and we can barely do without them in gatherings and festive seasons, and it's a meal you can make in no time. So simple recipe, but the impact it makes in a gathering is quite remarkable!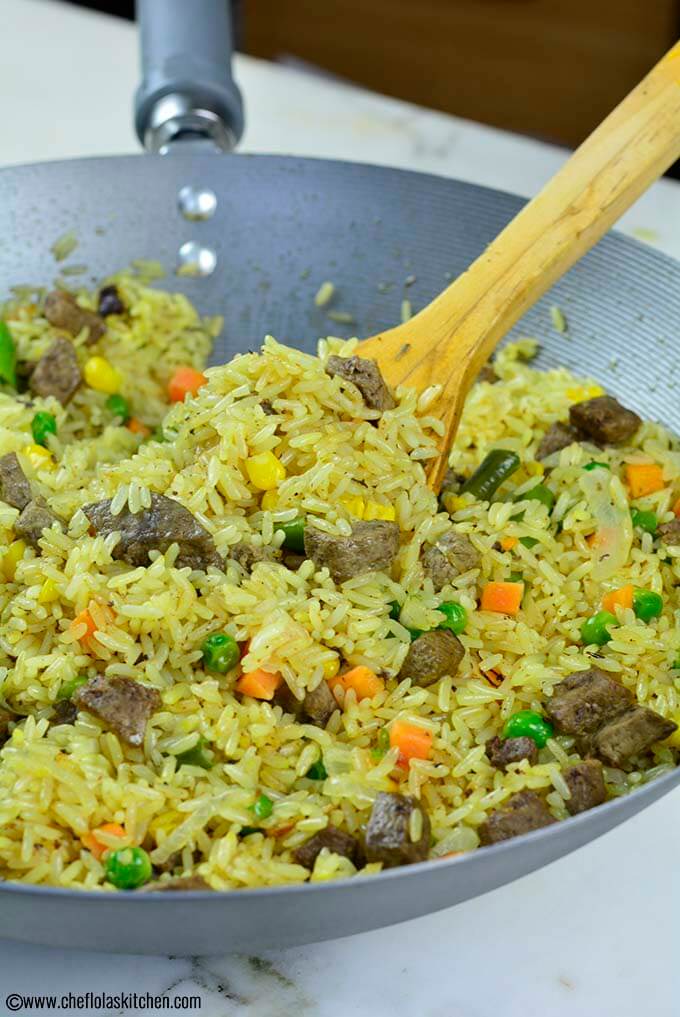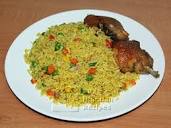 3.Egusi soup
Nigerian Egusi Soup is a soup thickened with ground melon seeds and contains leafy and other vegetables. It is one of the most popular soups prepared by most tribes in Nigeria with considerable variation and often eaten with dishes like Pounded Yams. Prepare it with goat, beef, fish, or shellfish!
Ingredients
1 cup blended onions
4 cups egusi
1⁄2 – 1 cup palm oil
2 teaspoons fresh Une, iru and locust beans.
Salt
Ground crayfish
7– 8 cups stock
Cooked Meat & fish
2 cups cut pumpkin leaves
1 cup waterleaf
3 tablespoons bitter leaf
Instructions
EGUSI PASTE:
1. Prepare the egusi paste:
2. Blend egusi seeds and onion mixture. Set aside.
MAKE THE SOUP:
1. In a large pot, heat the palm oil on medium for a minute and then add the Une.
2. Slowly add the stock and set on low heat to simmer.
3. Scoop teaspoon size balls of the egusi paste mixture into the stock. Be sure to keep ball shape.
4. Leave to simmer for 20 – 30 minutes so the balls cook through.
5. Add the meat and fish and other bits which you'd like to use.
6. Add cut-up pumpkin leaves.
7. Add the waterleaf.
8. Stir and put a lid on the pot and allow cook for 7–10 minutes, till the leaves wilt.
9. Add the bitter leaf. Leave the lid off while the cooking finishes for another 5-10 minutes.
10. Stir, check seasoning and adjust accordingly.
Now you can sit back and enjoy your delicious Nigerian Egusi Soup! about 3- 5 and fresh chilies, to taste
melon seeds, ground or milled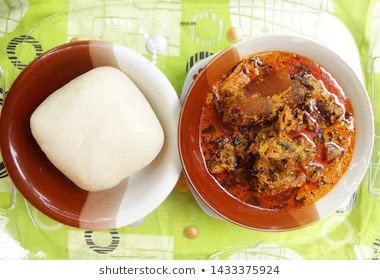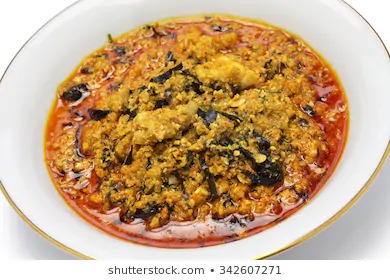 4.Rice and tomato stew.
By Tomato Stew, I mean stew used to prepare the Nigerian Jollof Rice recipes: Jollof Rice, Coconut Rice, Rice & Beans, etc. This tomato stew also forms the base for the Nigerian Beef & Chicken Stew. I always prepare a large quantity of this tomato stew and store in my freezer. This makes cooking my Nigerian Jollof Rice, Spaghetti Surprise and other meals where I use Tomato Stew so easy.
Ingredients for Nigerian Tomato Stew
3.2kg (7lbs) fresh Plum Tomatoes (referred to as Jos Tomatoes in Nigeria,
tomate pera in Spanish and pomodoro pera in Italian)
400g (14oz) tinned tomato paste: (or watery tinned Tomato Puree: 800g)
Vegetable Oil: a generous quantity (see the video below)
2 onions
Important notes on the ingredients
1. Tomatoes: Plum tomatoes are the best for the Nigerian Tomato Stew (and other Nigerian recipes) because all the other types of tomatoes either have a very strong taste, have lots of seeds or contain lots of water. You can also use Roma Tomatoes because it is very similar to plum tomatoes.
2. Vegetable Oil: There's always a debate about this one. But I will insist that you need more than enough oil when frying the tomatoes. This is so that the tomatoes will not burn till all the sour taste is gone and the water has dried from the tomatoes. You will pour out the excess oil when the tomatoes are well fried. Just think about this as "sort of" deep frying the tomatoes. Not that you'll need that much oil but you get the gist.
If you don't use enough oil, your stew will have a sour taste and it will burn even if you stand there stirring frantically Cooking should be fun, not tedious. And why worry when you'll pour out the excess oil when you are done? In my opinion, anybody worried about his/her health should stay away from this stew because it is fried.
This oil you pour out is red hence it is perfect for cooking Egusi Soup, Okra Soup and Ogbono Soup for those who cannot buy or do not want to use palm oil. Once it has cooled down, put it in the fridge or freezer because it will go bad if left on the kitchen counter.
3. Tinned tomato paste/puree: The tinned tomato paste sold in Nigeria is usually very thick and concentrated. If you try to fry this tomato paste as is, it will burn straight away. What I normally do is to add some water to it to bring it to the softer consistency as I did in the video below. There are other types of tomato purees sold in Europe and the rest of the world and these are usually watery. If that is the only type you can buy, then you need to cook it with the fresh tomato puree (as explained below) to get it to dry up a bit and get rid of the sour taste before frying.
One more thing; the tinned tomato paste/puree is optional. Its job is to improve the redness of the tomato stew, making it look richer and more appetizing. If you don't want to use it, replace with fresh plum tomatoes. In Nigeria, it is common to use tatashe (Nigerian big red peppers) to improve the redness of the tomato stew. Please note that tatashe is not the same as bell peppers.
4. Cut the onions into small pieces.
Cooking Directions
1. Pour the fresh tomato blend into a pot and cook at high heat till almost all the water has dried. If you have the watery tinned/boxed tomato puree, add these to the pot and reduce the heat to low. Cook till the water in the tomato puree have dried as much as possible.
2. Add the vegetable oil, the chopped onions and the thick tomato puree that you mixed in step 2 above (if it's the puree you are using). Stir very well.
3. Fry at very low heat and stir at short intervals till the oil has completely separated from the tomato puree. A well fried tomato puree will also have streaks of oil, unlike when you first added the oil and it was a smooth mix of the tomato puree and oil. Taste the fried tomato puree to make sure that the raw tomato taste is gone. With time and experience, you can even tell that the tomato puree is well fried from the aroma alone.
4. If you are happy with the taste and you are sure that all the water has dried as much as possible, pour out the excess vegetable oil like I did in the video below, then add the well fried tomato stew to your cooking.
5. If you are not using it immediately, leave to cool down, dish in containers and store in the freezer.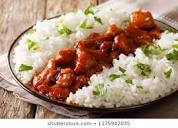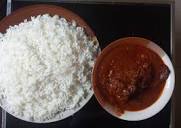 5.papper soup.
African pepper soup is a hearty African soup made with Goat meat cutlets or chunks, pepper soup spice and other beautiful condiments. If you are looking for an authentic African Goat meat pepper soup, this soup certainly delivers the big, bold African flavors you will love.
Almost every culture on earth has its soup recipe and Africa is not an exception. In fact, soups and stews are a significant component of the African cuisine, and we have a whole lot of it apart from this pepper soup recipe like Turkey Stew, Ayamase stew, Stewed Spinach (Efo riro), Egusi Soup , chicken pepper soup etc.
The African Pepper soup is primarily liquid, usually served hot and this is made by boiling Meat or Fish of choice in order to extract flavor from them. The broth from this Meat is then further seasoned with authentic African spices. It can be served with boiled Potatoes, Rice, Bread or just eat "as it is.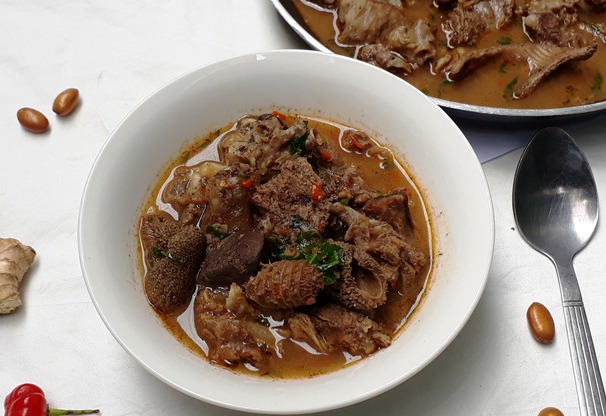 6. Bean and plantain porridge.
Beans known as Ewa to the Yorubas are unpopular staple foods because it is associated with bloating, flatulence and indigestion. Most people have one reason or the other why they do not eat beans. Yet, it is advisable to to have beans in the family menu especially when you have young children in the family.
How to Cook Beans Porridge [Video]
The cooking method detailed here will help eliminate the problems associated with beans. You can learn more about how you can prevent the problems associated with eating beans at:
Ingredients
3 cigar cups (approx. 750g) brown/black eyed beans
Red palm oil (enough to colour)
1 medium onion
Pepper & Salt (to taste)
1 big stock cube
500g Yam/Plantain/Sweet Potatoes/Baby Corn (Optional)
You can also add crayfish if you want but I prefer not to add it because it makes the beans have an over-seasoned taste.
Before you cook Beans Porridge
1. Soak the beans in cold water for 5 hours. Boil the beans for 5 minutes and discard the water. Wash the beans in cold water and set aside. This soaking and pre-cooking process will help reduce the gas inducing elements.
2. Chop the onions, grind the crayfish (if you are using it) and pepper.
3. If you will use yam/plantain/sweet potatoes, wash, peel and cut them into 1 inch cubes and set aside. If you will use baby corn, drain the preservation liquid, rinse and set aside.
Cooking Directions
1. Put the beans in a pot and pour water up to the level of the beans and start cooking.
Note: If you have a pressure cooker, beans is one of the staple foods you will want to use it for. It reduces the cooking time considerably.
2. Cook till tender, adding more water from time to time, if necessary. Always keep the water at the same level as the beans so that when the beans is done, you will not have too much water in the porridge.
3. When the beans porridge is soft, add the onions, crayfish (if using it), pepper and seasoning.
4. Add the red palm oil, salt to taste and cook for more 5 minutes on medium heat.
5. Turn off the heat, add the baby corn (if you have chosen to use it), leave to stand for 5 minutes and turn the porridge with a wooden spoon.
The beans porridge is ready. If you cooked the beans porridge without any of the additions, serve with Fried Plantain , Fried Yam or fried5. Turn off the heat, add the baby corn (if you have chosen to use it), leave to stand for 5 minutes and turn the porridge with a wooden spoon.
The beans porridge is ready. If you cooked the beans porridge without any of the additions, serve with Fried Plantain , Fried Yam or fried plantain.


6. Edikankong soup.
Edikaikong soup is the real vegetable soup of the Ibibios or Efiks people of South South region in Nigeria.
The soup involves a lots of preparation and honestly, requires me to be a very good mood to get the consistency right.
It's delicious, nutritious, and full of essential vitamins only when eating fresh..
So here's my hands down recipe from my grandma on how to make the very Authentic EdikanKong soup.
Ingredients 6-8 servings.
I kg (5 bunch of Pumpkin leave) same name as Ugwu
500 g water leaves
2 handful Ntong (scent leaves or Effirin
I kg Assorted Meat
Ponmo
200 ml (2 cups) Palm oil
I medium onions
I Cup of periwinkles
Head I Large stockfish
2 Medium Sized Smoked Fish
6 fresh Yellow pepper (pounded)
I Cup pounded Crayfish
1/2 Cup Dried Shrimps (slightly pounded)
1 tbs black Pepper
2 stock cubes
Salt.
Steps 90 mins
Published by
Nd Beau
Sister, Friend, Widow, Mom, Teacher, Cook and Business Woman.
More recipes by Nd Beau
Related keywords
edikang ikong edikaikong soup  Add to plan
I kg (5 bunch of Pumpkin leave) ssameame as Ugwu
500 g water leaves
2 handful Ntong (scent leaves or Effirin
I kg Assorted Meat
Ponmo
200 ml (2 cups) Palm oil
I medium onions
I Cup of periwinkles
Head I Large stockfish
2 Medium Sized Smoked Fish
6 fresh Yellow pepper (pounded)
I Cup pounded Crayfish
1/2 Cup Dried Shrimps (slightly pounded)
1 tbs black Pepper
2 stock cubes
Salt
Before cooking, I like to pick, wash properly and allow to drain then slice all the vegetables. Ugwu, water leaves and scent leaves. Put each in separate bowls.
Wash you Meats, seasons accordingly and cook till almost tender, then add the washed Stockfish head and cook… Make sure the meat stock is almost Dried…we don't need water in the soup, cause the water leaves and palm will generate stick for this soup.
Before the stock Dried out completely, add water leaves, Periwinkles, pounded fresh pepper and stir cook for 3-5 mins. (Ensure you don't over cook the water leaves)
Add in Ugwu, scent leaves, pounded shrimps, smoked fish, black pepper, stock cubes and stir the content of the pot very well..Cover the pot and leave to cook for 5mins.
Lastly, according to my Grandma's recipe, you add the pounded Crayfish and taste for salt, give it a stir and that's it.(pls be mindful of the salt and stock cubes, cause vegetable soup can easily become salty)
Remove from fire and enjoy with Fufu, Pounded Yam, Semo, Samvita or even Eba.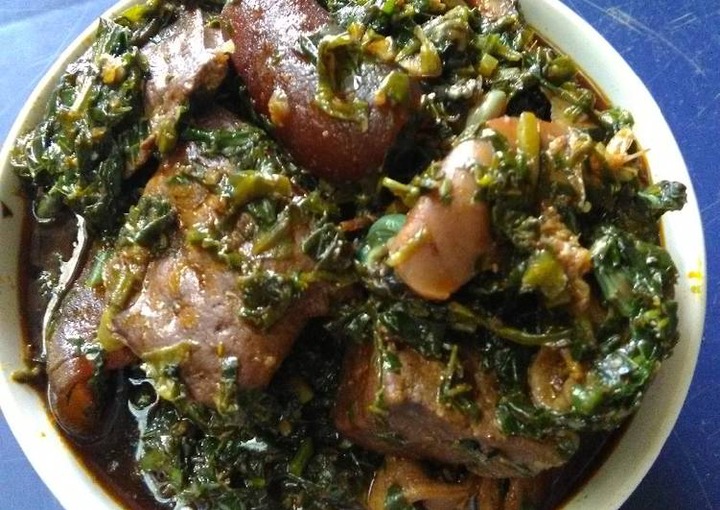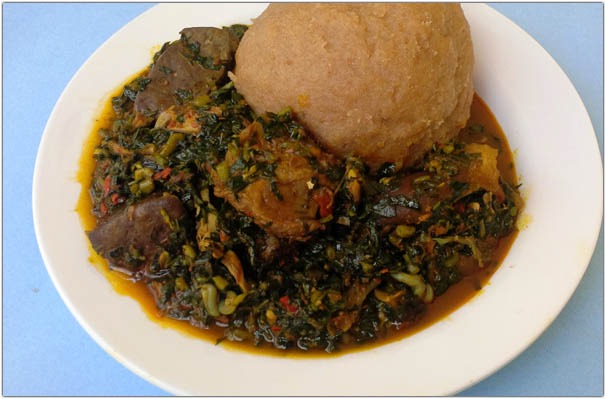 8. Bean cake and pap.
Akara and pap are one of Nigerians native breakfast food. Pap is cornmeal made from wet corn starch. The corn can be yellow or white. … Akara, on the other hand, is a processed ground bean, turned into a fried cake. Made from beans and other ingredients like pepper, onions and other things that you may wish to add.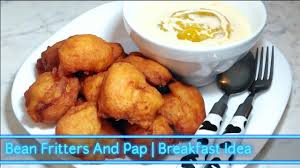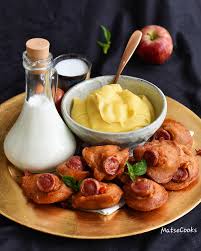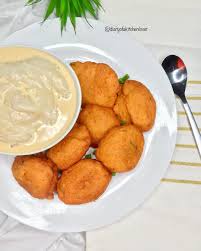 Coronavirus Realtime Updates
NG
+108981
Confirmed
+331
Deaths
+0197
Recovered
Data as of 2020-04-24 20:02:04 UTC